Survey: NC Nurses Overwhelmed & Burning Out
February 16, 2022
New survey results from the North Carolina Nurses Association (NCNA) highlight the disparity between the "return to normalcy" for the general public and the long-term chaos impacting healthcare professionals. North Carolina's number of new COVID cases, thankfully, continues to decline in the wake of the Omicron variant surge, but the levels of stress for nurses has remained consistently high for an extended period of time, with no sign of similar declines.
While not a scientific survey, the results from NCNA members demonstrated increased frustration with workload, pay, patient aggression, and an overall feeling that the situation in healthcare has simply not improved two years into the pandemic. The survey was conducted from February 1 through February 9 and garnered 229 respondents.
"One of the most frustrating aspects of the surveys we have conducted over the last two years is that the stress levels are unsustainably high. People can only go so long under this kind of pressure, and nurses have been doing this for far too long," said NCNA CEO Tina C. Gordon, MPA, CAE, FACHE. "The burnout rate is alarmingly high, and none of us want to see the long-term fallout this is going to have on healthcare. Something has got to give."
Respondents of this most recent survey averaged a 7.4 out of 10 when asked about the impact that COVID has had on them and their patients in the last 10 days. Since NCNA first began asking that question, the results have never varied more than three-tenths of a point.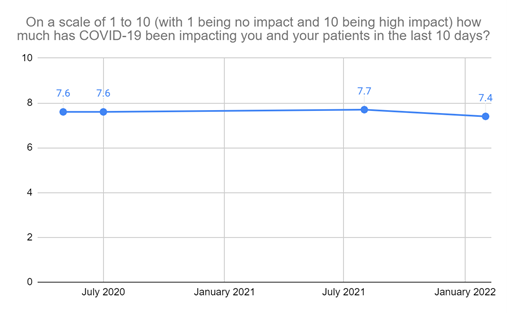 When asked about their mental and emotional well-being on a scale of 1-10 (with 1 being no impact and 10 being ready to leave the nursing profession due to burnout), respondents averaged 5.6, with 11 percent logging a 10. Comments shared by respondents illustrate working conditions that are pushing nurses to their breaking points:
"In over 30 years of nursing, I have never been this stressed. I want to retire but can't financially do it."
"Mentally and physically exhausted. Work life and home life are falling apart because there is just not enough of me to go around. Focus is horrible. Can't keep it all together anymore."
"I have no more joy in nursing, it's just too difficult and all the resiliency training in the world will not change the current climate of nursing."
"Crying frequently, not eating, considering leaving hospital environment, dread coming to work, resent work, angry a lot, tired all the time, don't enjoy anything."
"Draining, loss of hope, loss of faith in humanity, loss of desire to want to help people."
"We are drowning out here. Please, no more meditation or pizza parties. This is traumatic and abusive. We need real concrete help."
"I am deeply concerned about the future of nursing and will it ever be the same."
"At times encountering family members of pts [patients] who are verbally abusive to staff because of the political divisiveness around vaccines, treatments without evidence to support their effectiveness, and the use of PPE when visiting COVID positive pts in the hospital."
One major point of concern for respondents is the continued reliance on "travel nurses." These healthcare professionals, typically hired through staffing agencies for short-term contracts, have been heavily utilized throughout the last two years by hospitals as a stopgap measure to dampen the impact of the pre-pandemic nursing shortage. Travel nurses have been garnering contract wages that are much higher than permanent staff, and while they are properly licensed, the temporary aspect of their contracts requires burdensome, repetitive onboarding processes. Many permanent staff nurses say the "gig" aspect of travel nursing also offers little buy-in to the community's specific needs.
Perhaps the only area of significant improvement has been the supply of Personal Protective Equipment (PPE), although there are still areas of concern. Most of the nurses surveyed are reporting adequate supplies, which is a major change from the first few months of the pandemic. Still, more than 12 percent of respondents said their facilities had a PPE shortage in this latest survey during the Omicron surge, four points higher than the last survey, which was taken during the Delta surge.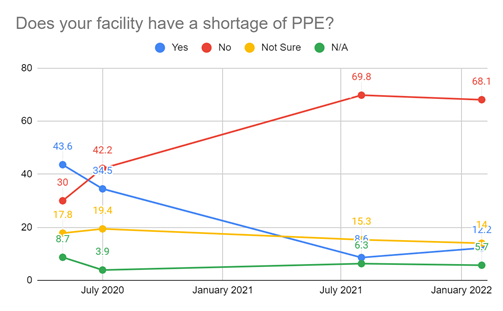 Taken together, the survey results show that hospitals and healthcare systems across the state are overwhelmed, and the nursing profession has been irreversibly changed in ways that will impact healthcare long after the pandemic subsides. North Carolina's healthcare workforce has been asked to do more than should be expected, and further escalation could result in a mass exodus that the healthcare system is not prepared to absorb. NCNA calls on policymakers and hospital/health system administrators to focus on nurse retention strategies that fix systemic issues like workload, improved wages and benefits, and a healthier workforce pipeline.
MEDIA CONTACT
Chris Cowperthwaite, APR
Director of Communications & Outreach
(919) 821-4250 or chriscowperthwaite@ncnurses.org
ABOUT NCNA
As the leading professional organization for North Carolina's registered nurses, we equip nurses at all stages to thrive in an ever-changing healthcare environment. NCNA helps keep North Carolina nurses on the cutting edge of nursing practice, policy, education, and more. Join us as we work to advance nursing and ensure high-quality healthcare for everyone.
Established in 1902, NCNA provides continuing education, networking, and legislative advocacy for registered nurses throughout North Carolina. For more information, please visit www.ncnurses.org.
MISSION STATEMENT
The North Carolina Nurses Association serves the changing needs of its members, addresses nursing issues, and advocates for the health and well-being of all people.