NCNA News
School Nurses in the Spotlight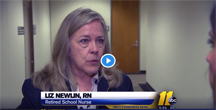 April 24, 2018
The House Select Committee on Safer Schools, Subcommittee on Student Health, talked at length Monday about ways that adding more school nurses can help prevent tragedies in North Carolina schools. The recommended ratio is one school nurse for every school, and North Carolina currently falls far short of that goal. While they did not recommend a specific dollar amount that should be spent, there was bipartisan support for improving those ratios, and some calls for getting North Carolina to at least match the national standard of one nurse for every 750 students.
Click the links below to read more:
The recommendations will next go to the Committee on Student Health before they can be considered in the full House and Senate.