One Medical Endorses the SAVE Act
For Immediate Release
July 31, 2023

RALEIGH, N.C. – Support for the SAVE Act (H218/S175) continues to grow, even as legislative gridlock prevents this popular, bipartisan legislation from moving forward. One Medical, one of the country's largest primary care organizations, recently became the latest to publicly endorse the SAVE Act, which would grant full practice authority to Advanced Practice Registered Nurses (APRNs).
Share This Message On Social!
Click here to share on Facebook.
Click here to share on Instagram.
Click here to share on Threads.
Click here to share on Twitter/X.
Click here to share on LinkedIn.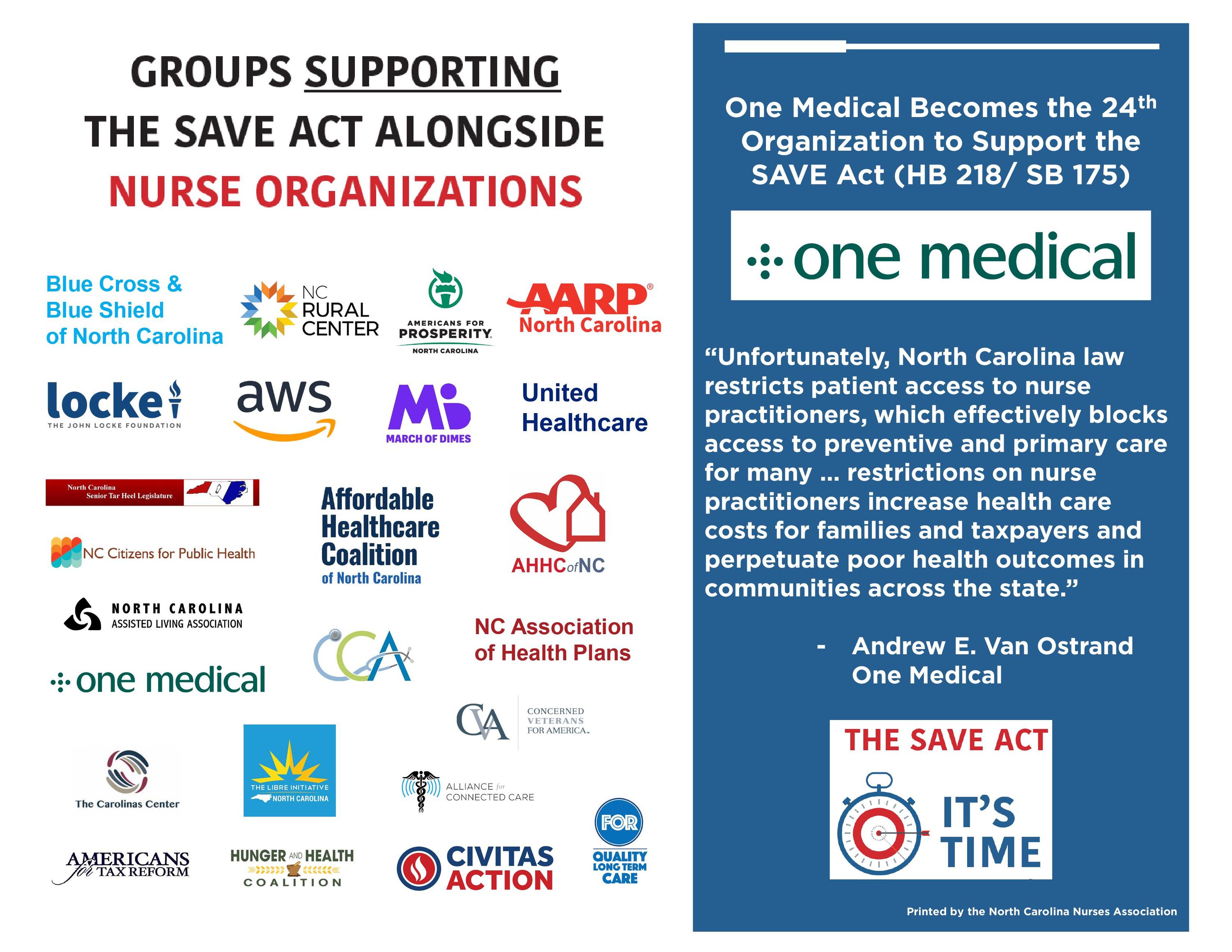 "Unfortunately, North Carolina law restricts patient access to nurse practitioners, which effectively blocks access to preventive and primary care for many across the state," said Andrew E. Van Ostrand, One Medical's Vice President Government Affairs, in a letter to legislators. He went on to add, "Nurse practitioners are highly educated, qualified clinicians with the potential to ease the extreme primary care provider workforce shortage. In addition to reducing access to care, restrictions on nurse practitioners increase health care costs for families and taxpayers and perpetuate poor health outcomes in communities across the state."
The SAVE Act was introduced in February and quickly garnered 80 sponsors from both sides of the aisle, including 59 in the House and 21 in the Senate. At least 27 other states have passed similar legislation to the SAVE Act, which is overwhelmingly backed by more than 40 years of peer-reviewed research.
One Medical has eight practices in North Carolina, where it serves nearly 10,000 patients. Its support of the SAVE Act makes it the 24th organization outside of the nursing profession to endorse this bill.
· AARP North Carolina
· The Affordable Healthcare Coalition of North Carolina
· The Alliance for Connected Care
· Amazon Web Services
· Americans for Prosperity North Carolina
· Americans for Tax Reform
· The Association for Home & Hospice Care of North Carolina
· Blue Cross NC
· The Carolinas Center
· Civitas Action
· Concerned Veterans for America
· The Convenient Care Association
· Friends of Residents in Long Term Care
· The Hunger and Health Coalition
· The John Locke Foundation
· The LIBRE Initiative
· March of Dimes North Carolina
· The North Carolina Assisted Living Association
· The North Carolina Association of Health Plans
· North Carolina Citizens for Public Health
· The North Carolina Rural Center
· The North Carolina Senior Tar Heel Legislature
· One Medical
· United Healthcare
There are no known opponents of the SAVE Act outside of organized medicine.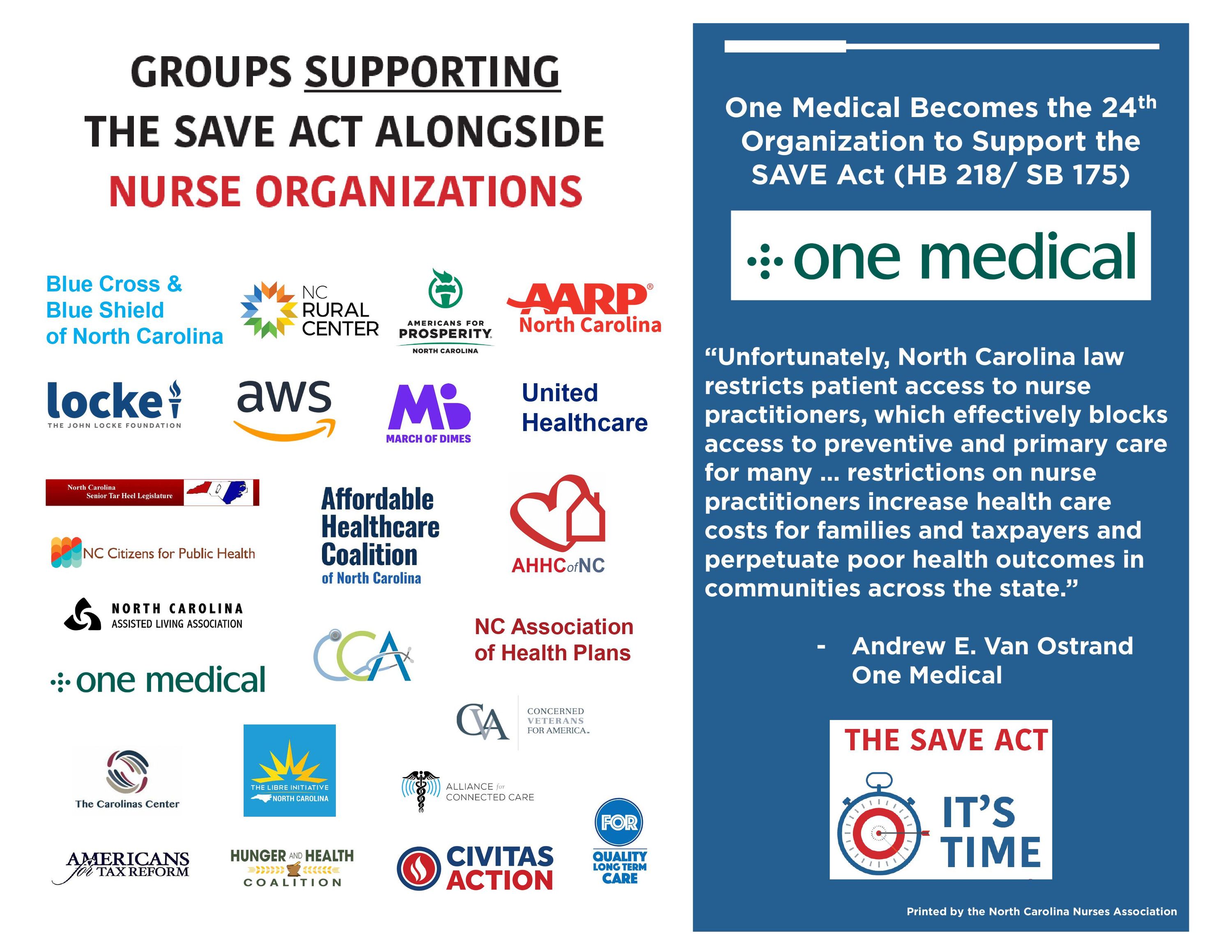 ---
MEDIA CONTACT
Chris Cowperthwaite, APR
Director of Communications and Outreach
(919) 821-4250 or ChrisCowperthwaite@ncnurses.org
ABOUT NCNA
As the leading professional organization for North Carolina's registered nurses, we equip nurses at all stages to thrive in an ever-changing healthcare environment. NCNA helps keep North Carolina nurses on the cutting edge of nursing practice, policy, education, and more. Join us as we work to advance nursing and ensure high-quality healthcare for everyone.
Established in 1902, NCNA provides continuing education, networking and legislative advocacy for registered nurses throughout North Carolina. For more information, please visit www.ncnurses.org.
MISSION STATEMENT
The North Carolina Nurses Association serves the changing needs of its members, addresses nursing issues, and advocates for the health and well-being of all people.