NCNA News
Nurses Make A Full Court Press for Regulatory Changes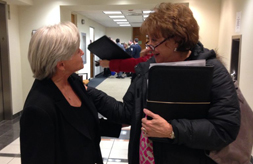 March 16, 2017
By Rose Hoban
North Carolina Health News
A couple of years ago, Tom Bush was working as the "nurse of the day" at the General Assembly.
It's an honorary volunteer position, used to give health care practitioners (there's a doctor of the day, too) a taste of the legislature, it also gives providers a chance for some one-on-one with lawmakers.
On this particular day, Bush, who's worked as a nurse practitioner at UNC Health Care for several decades, was visited by a legislator with a nasty cough. Bush thought he needed an antibiotic, and if he had been at UNC, Bush would have taken out his pad and jotted down a prescription.
But in Raleigh, he couldn't.
"I can't practice, I can't function to the extent of my education and experience because I'm not in a UNC facility," he explained.
That's because as an NP, Bush's practice is constrained by a "collaborative practice agreement," which limits him to UNC.
"My scope of practice as a registered nurse is governed by the Board of Nursing," Bush explained recently. "My practice as a nurse practitioner is governed by a subcommittee of the Board of Nursing and the Medical Board."
"I've got an RN license and 'approval to practice medical acts,' that's the language in the statute," he said.
In short, Bush doesn't have a license to be a nurse practitioner. No NPs in North Carolina do.
It's this roundabout system that nurses are looking to change with House Bill 88, a bill similar to something filed in prior years. But in those years the bill always died.
This year, though, the nurses think they have a shot at passage.