NCNA News
Nurses from Across the State Honored by North Carolina Nurses Association
September 24, 2019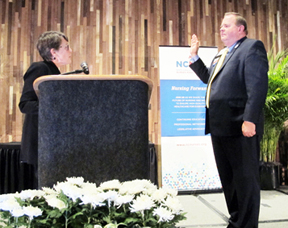 RALEIGH, NC – The North Carolina Nurses Association (NCNA) is welcoming new leaders and recognizing nurses and organizations that are helping drive Nursing Forward® in North Carolina. Roughly 550 nurses, nursing students, and guests gathered at the M.C. Benton Convention center last week for networking, continuing education, an awards ceremony, and statewide membership forum during NCNA's 112th Annual Convention in Winston-Salem.
NCNA members elected new members of the Board of Directors as the association passed the torch from Immediate Past President Elaine Scherer, MAEd, BSN, RN, to President Dennis Taylor, DNP, ACNP-BC, NEA-BC.
Board of Directors for 2019-2021
Executive Committee
President Dennis Taylor, of Lexington
President-Elect Meka Douthit EL, of Winston-Salem
Secretary/Treasurer Ryan Lewis, of Apex
Members at Large
Albert Anderson, Jr., of Winterville
Bonnie Davis Meadows, of Belmont
Holly Wei, of Chapel Hill
Tomika M. Williams, of Greensboro
Commission Chair
Commission on Advanced Practice Nursing (CAPN): Carrie Palmer, of Cary
Other Elected Positions
Nominations Committee
Renee Mayo, of Greenville
Carmen Shaw, of Charlotte
Gail Shue, of Concord
Chair, Bylaws
ANA Membership Assembly
Meka Douthit EL
Dennis Taylor
As part of the Convention agenda, NCNA also presented awards to individual nurses and organizations that are having a tangible impact on improved patient care around the state.
Hall of Fame
The late Lydia Holman, of Mitchell County
The late Helen Miller, of Durham
Practice Nurse of the Year
Joanne S. Stevens Political/Legislative Nurse of the Year Award
Certificate of Commendation
Catherine Sevier, of Greensboro
Rookie of the Year
Trish Richardson, of Raleigh
NC Nurses PAC Leadership Society Award
Linda O'Boyle, of Elm City
Best Practice Awards
Atrium Health's Neurosciences Institute – Telestroke
CarolinaEast Medical Center's Charge Nurse Academy
Pfeiffer University's Nursing and Exercise Science Department - Clergy Health Institute
NCNA's Annual Convention gives attendees the opportunity to collaborate with colleagues and earn valuable professional development experience at the largest nursing event of the year in North Carolina.
"I am so excited that we have just wrapped up our annual convention with record attendance," said President Dennis Taylor. "Nursing is strong in North Carolina as evidenced by the great work by nurses to improve care, reduce cost and increase access to all North Carolinians."
Established in 1902, NCNA provides continuing education, networking and legislative advocacy for registered nurses throughout North Carolina. For more information, please visit www.ncnurses.org.