Nurses and Others Call on NCGA to Swiftly Pass the SAVE Act to Increase Access to Quality, Affordable Care
May 27, 2020
For Immediate Release
RALEIGH - Legislators are already working under a completely new "normal" at the General Assembly as North Carolina adapts to the coronavirus pandemic. Wearing masks, getting temperature checks, and socially distancing from their Jones Street colleagues is evidence that the status quo is no longer feasible for legislating.
The status quo is not feasible for healthcare, either.
One of the first actions the General Assembly should take this session is to bring the SAVE Act (SB 143/HB 185) to the floor of both chambers for a vote. Giving North Carolinians better access to quality care is paramount during this pandemic response. This bipartisan bill has more than 60 co-sponsors and is shovel-ready legislation that would fix unnecessary barriers to care the minute it is signed into law.
The SAVE Act cuts red tape by removing so-called "physician supervision" requirements for Nurse Practitioners and Clinical Nurse Midwives. This antiquated rule forces Advanced Practice Registered Nurses (APRNs) to enter into a business contract with a physician in the same field before they can treat patients. The current requirements have largely remained unchanged since they were first enacted more than 40 years ago.
In December, the Trump Administration issued an executive order calling on states to consider modernizing statutes to allow APRNs to practice at the top of their license.1 Additionally, this March, Alex Azar, Secretary of the Department of Health and Human Services sent a letter to all 50 governors suggesting they modernize APRN regulations as a direct response to COVID-19.2
"Healthcare has changed a lot over the last 40 years. APRNs have changed a lot over the last 40 years. It is long past time that North Carolina modernizes its APRN regulations to match the reality of our healthcare infrastructure," said NCNA President Dennis Taylor, DNP, ACNP-BC. "North Carolina is in an 'all hands on deck' situation, but this outdated red tape is keeping many of our best and most flexible healthcare workers from practicing to the full extent of their training and education."
Over the last few months, nurses have proven how capable and dedicated they are to protecting patients, no matter what they face. The main opposition to this regulatory change is not based on facts: physician groups have said for years, without any evidence, that patient safety will suffer. Dozens of studies over the last four decades have shown time and again that APRNs care for patients as well as – and often better than – physicians when their scopes of practice overlap.
Nearly ten years ago, the Institute of Medicine offered a full-throated endorsement of Full Practice Authority with its "Future of Nursing" report.3 Since then, studies published everywhere from the Federal Trade Commission4 to the Journal of the American Medical Association5 have continued to support these changes.
The coalition of support around this bill has continued to grow since the SAVE Act was first introduced last February. Aside from multiple nursing associations, a diverse group of outside organizations support this bill for a wide range of reasons that directly address healthcare during a pandemic and the changes our system must undergo in its aftermath.
"The supervisory physician requirements are overly burdensome and can prevent these qualified healthcare professionals from even volunteering during times of crisis," said Leah Byers, Policy Analyst and Government Affairs Coordinator for the Civitas Institute in a recent blog post. "The language from the SAVE Act, filed in 2019 as House Bill 185 and Senate Bill 143 with broad bi-partisan support, could go a long way to expanding the scope of practice for APRNs."
"March of Dimes encourages North Carolina to examine its laws and regulations related to midwifery care to ensure they are not unnecessarily restrictive, foster access to these services for women who desire them and promote full practice authority for midwives as part of an integrated system of care," said Michaela Penix, MPH, Director, Maternal Child Health & Government Affairs for March of Dimes North Carolina in a statement earlier this year.
APRNs are some of the most highly-trained nurses in the profession and require masters-level education or higher. The four types of APRNs include Nurse Practitioners, Certified Nurse-Midwives, Certified Registered Nurse Anesthetists, and Clinical Nurse Specialists.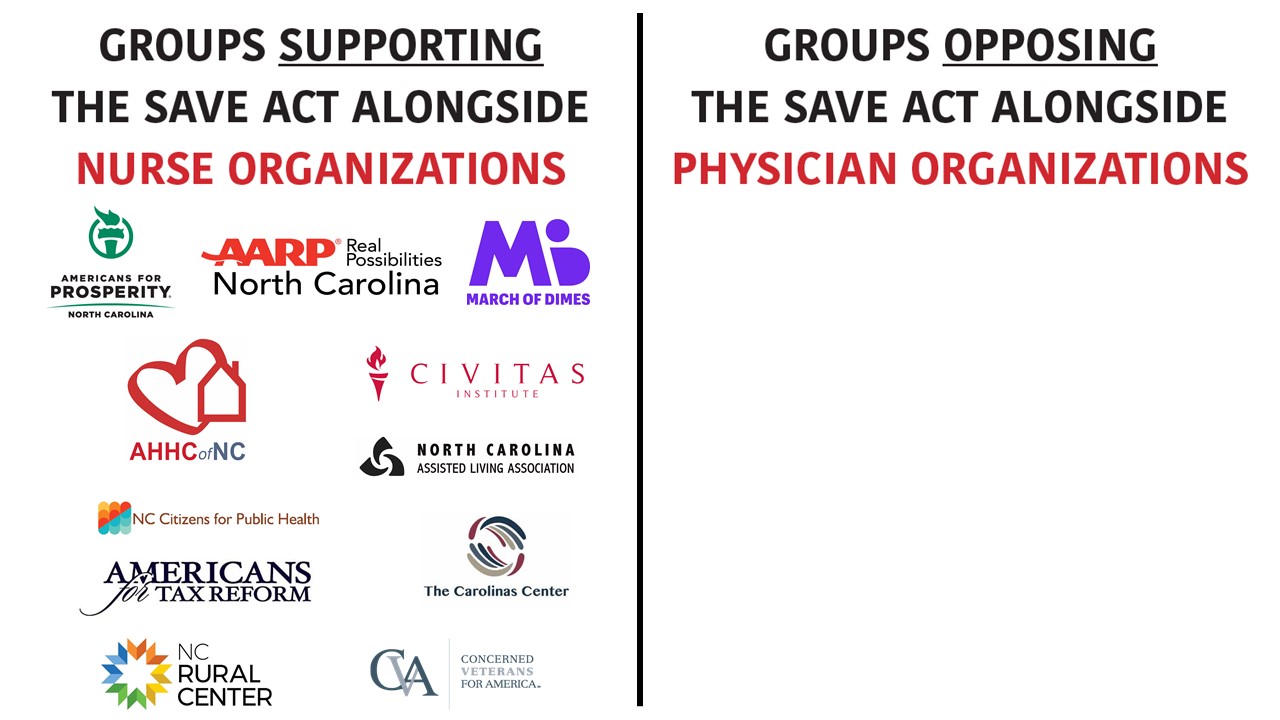 MEDIA CONTACT
Chris Cowperthwaite, APR
Director of Communications & Outreach
(919) 821-4250 or chriscowperthwaite@ncnurses.org

ABOUT NCNA
As the leading professional organization for North Carolina's registered nurses, we equip nurses at all stages to thrive in an
-changing healthcare environment. NCNA helps keep North Carolina nurses on the cutting edge of nursing practice, policy, education, and more. Join us as we work to advance nursing and ensure high-quality healthcare for everyone.
Established in 1902, NCNA provides continuing education, networking and legislative advocacy for registered nurses throughout North Carolina. For more information, please visit www.ncnurses.org.
MISSION STATEMENT
The North Carolina Nurses Association serves the changing needs of its members, addresses nursing issues, and advocates for the health and well-being of all people.
REFERENCES
1. "Reforming America's Healthcare System Through Choice and Competition." US Department of Health and Human Services, US Department of the Treasury, and US Department of Labor. 2019. https://www.hhs.gov/sites/default/files/Reforming-Americas-Healthcare-System-Through-Choice-and-Competition.pdf
2. US Department of Health and Human Services. 2020. https://www.ncsbn.org/HHS_Secretary_Letter_to_States_Licensing_Waivers.pdf
3. "The Future of Nursing: Leading Change, Advancing Health." National Academy of Sciences. 2010. http://www.nationalacademies.org/hmd/Reports/2010/The-Future-of-Nursing-Leading-Change-Advancing-Health.aspx
4. "Policy Perspectives: Competition and the Regulation of Advanced Practice Nurses." Federal Trade Commission. 2014. https://www.ftc.gov/system/files/documents/reports/policy-perspectives-competition-regulation-advanced-practice-nurses/140307aprnpolicypaper.pdf
5. "Primary Care Nurse Practitioners and Physicians in Low-Income and Rural Areas, 2010-2016." Journal of the American Medical Association. 2018. https://jamanetwork.com/journals/jama/article-abstract/2720014