NC's Nursing Shortage & COVID Surge are Fueling Burnout
For Immediate Release
September 1, 2021
RALEIGH - A new survey of members of the North Carolina Nurses Association (NCNA) is highlighting the fatigue of an overwhelmed nursing workforce on the front lines of the state's COVID-19 battle. A majority of nurses who responded to the survey say their facilities are understaffed and their mental and emotional wellbeing is being impacted by the rise in cases. Additionally, nearly 90 percent of respondents say they have been vaccinated.
While not a scientific survey, the results indicate a nursing workforce that is frustrated with the resurgence; many nurses say the current spike in cases was preventable and compassion fatigue is becoming a problem. The survey was conducted from August 23 through August 29 and garnered 463 respondents.
"These results confirm what we know has been brewing for quite a while. I'm really concerned about nurses out there right now and I'm even more concerned about the long-term impact this will have on individuals and the profession," said NCNA CEO Tina C. Gordon, MPA, CAE, FACHE. "Please listen to nurses and do what you can to reduce their heavy load."
BURNOUT SIGNS
Several quantifiable questions on the survey directly addressed the toll COVID is taking on nurses in facilities and at the bedside:
"On a scale of 1 to 10 (with 1 being no impact and 10 being high impact), how much as COVID-19 impacted you and your patients in the last 10 days?"
"How does the impact to you and your patients right now compare to what you were experiencing three months ago?"

Higher impact: 81.2%
No change: 13.8%
Lower impact: 5%

"Does your facility/practice have a shortage of RN staff?"

Yes – severe shortage: 41%
Yes – moderate shortage: 35.9%
No – but shortage pending: 3.5%
No: 6%
Not sure: 3.9%
N/A: 9.7%

"Have you had to work longer hours/shifts/different assignments due to staff shortages?"

Yes: 59.8%
No: 22.3%
N/A: 17.9%

"On a scale of 1 to 10 (with 1 being no impact and 10 being high impact), how much has the staffing shortage impacted you and your patients in the last 10 days?"
"On a scale of 1 to 10 (with 1 being no impact and 10 being ready to leave the nursing profession due to burnout), how is your mental and emotional well-being?"
The last question about mental and emotional well-being gets to the heart of the matter in many ways. The 5.9 average includes responses from nurses in a variety of settings, not just those on the front lines of the pandemic. Thirteen percent of respondents chose 10, indicating they are close to leaving the profession due to burnout.
"I get feelings of dread when I start getting ready to go to work," said one respondent. "After I come home I will spontaneously from time to time just start crying for no reason that I can figure out at the time."
"The first year on Covid was really tough and we thought we were on the right track until everyone stopped wearing masks and vaccinations decreased," said another NCNA member. "It's incredibly tough to treat these patients when we all know that this second round could have been prevented."
"I'm tired, I'm stressed. I don't want to go to work any more. I now dread doing a job I love," said another nurse who responded to the survey. "I can't get away from work because they are constantly calling, texting and emailing me asking me to work extra on my days off. Then I feel guilty for saying no."
"I find myself become more and more angry every day. I am mentally and physically exhausted by our ever-increasing workload," said yet another respondent. "In conversations with providers, we all agree that what we are experiencing now is significantly more frustrating than a year ago, as people now are just being intentionally obstinate, even as this virus is literally killing them."
"I am experiencing stress, depression, and anxiety. I am often tearful," said another NCNA member. "Being the only medical person in my family it is hard to explain what I'm feeling to others. I have family members that are still unvaccinated after all of the education I'm providing them. Seeing our ICU fill with unvaccinated or partially vaccinated patients is heartbreaking. I have turned in my [30 day] notice at the hospital and do not currently have another job lined up."
Twenty one percent of respondents specifically mentioned use of travel nurses as a strategy by facilities to address staffing challenges; many of these responses indicated frustration at the high wages and extra incentives offered to travel nurses compared to permanent staff. "They are hiring travelers left and right and somehow finding the money to pay them triple what I make as a loyal staff member. It's infuriating," said one respondent.
MOST NURSES VACCINATED; POLARIZING TOPIC
NCNA has actively supported vaccination campaigns since the first doses were made available, so the association and its Board of Directors is heartened that 89.2 percent of respondents said they have been vaccinated. This result closely aligns with two other recent surveys at the national level from the COVID Vaccine Facts for Nurses campaign and the National Student Nurses Association.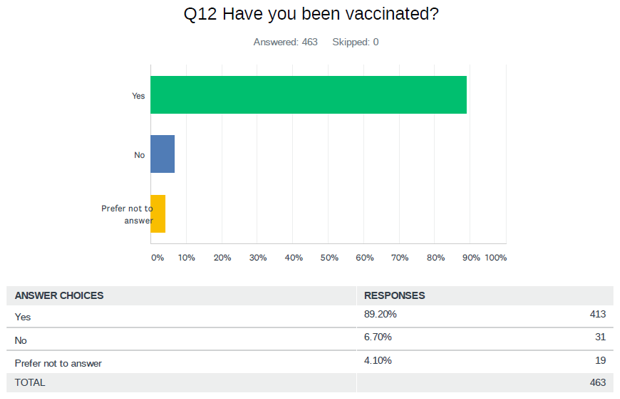 According to NCNA's member survey, COVID-19 vaccines and employer vaccination mandates are a highly polarizing issue within the profession, with strong opinions on both sides of the issue.
Many nurses reiterated frustration with colleagues who refuse to get vaccinated. "They pose a threat because they don't always follow CDC guidelines on masks & distancing" said one respondent. "We have had one RN work for 2 days while sick then tested positive."
On the other end of the spectrum, some respondents are angry about employer vaccination policies. "Stressed by the ultimatum we've been given about receiving the vaccine," said one nurse. "Heartbreaking to think I have to leave a job that I love because I don't want to receive the vaccine."
Strong opinions about vaccination are also adding stress to the nurse-patient relationship. Many respondents said they feel bullied, belittled, and verbally abused by their patients and/or patients' families. "I feel like every patient visit is a confrontation about vaccination. I've never seen so many people distrust medical providers," said one respondent.
"People are getting more rude and more aggressive by the day," said another respondent. "Most days are spent thinking 'if I get covid I can quarantine and have downtime.' That is just sad."
BIG PICTURE
The overarching takeaway of NCNA's survey is that nurses are facing pressure from a variety of angles as the COVID-19 surge continues to grow, and it is not sustainable for either individuals or the profession as a whole. The nurse shortage, the extra responsibilities being shouldered by the nurses still working, the acuity levels of an increased patient load, and polarized stances on evidence-based vaccinations are pushing more nurses to burnout than the first wave of COVID-19.
"We will keep caring for patients because that's what we do. Everyone turns to nurses when they need help, but the truth is we desperately need help right now, too. We need better resources, we need the space to practice self-care, we need our patients to listen to our advice. We need a break," said NCNA President Dennis A. Taylor, RN, DNP, PhD, ACNP-BC, FCCM. "This survey confirms that what I'm seeing on the front lines is consistent across the state. I hope it serves as a flashing warning light to patients, policymakers, and healthcare leaders that the status quo cannot last much longer."
MEDIA CONTACT
Chris Cowperthwaite, APR
Director of Communications & Outreach
(919) 821-4250 or chriscowperthwaite@ncnurses.org
ABOUT NCNA
As the leading professional organization for North Carolina's registered nurses, we equip nurses at all stages to thrive in an ever-changing healthcare environment. NCNA helps keep North Carolina nurses on the cutting edge of nursing practice, policy, education, and more. Join us as we work to advance nursing and ensure high-quality healthcare for everyone.
Established in 1902, NCNA provides continuing education, networking and legislative advocacy for registered nurses throughout North Carolina. For more information, please visit www.ncnurses.org.
MISSION STATEMENT
The North Carolina Nurses Association serves the changing needs of its members, addresses nursing issues, and advocates for the health and well-being of all people.