NCNA News
North Carolina's Ernest Grant Elected President of the American Nurses Association
June 25, 2018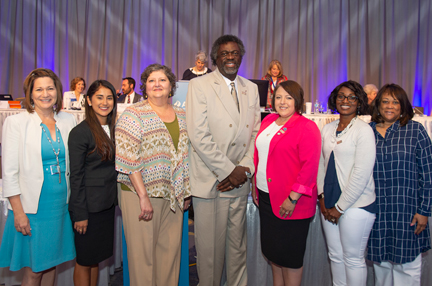 RALEIGH, NC – This past weekend, Chapel Hill resident Ernest Grant, PhD, RN, FAAN, was elected as the next president of the American Nurses Association (ANA) during its national Membership Assembly in Washington, DC.
Dr. Grant served as president of the North Carolina Nurses Association (NCNA) from 2009-2011 and is a longtime leader in healthcare at the state and national level. Dr. Grant will be the first male president of ANA and the third NCNA member to hold that office, after the late Margaret Dolan (1962-1964) and Dr. Beverly Malone (1996-2000). He will begin his two-year term on January 1, 2019.
"I'm so happy and humbled to be voted in as the 36th president of the ANA," said Dr. Grant. "I hope to continue the work of advocating for nurses, the nursing profession and those that we care for."
Dr. Grant is an internationally-recognized expert in treating burn victims and has worked at the Jaycee Burn Center at UNC Health Care since 1982. He was given a Nurse of the Year Award from President George W. Bush in 2002 for his work treating burn victims from the September 11th terrorist attack at the World Trade Center. Over the span of his 33 years as a Registered Nurse, Dr. Grant has held leadership roles in a wide variety of nursing, burn prevention, and fire safety organizations.
"North Carolina should be proud that Ernest will be representing our state in such a high profile role at ANA," said NCNA CEO Tina Gordon, MPA, CAE, FACHE. "He has as much clinical expertise as anyone out there, and when you pair that with his unwavering dedication to patient care and an infectious personality, you've got all the makings of a great leader. He is a spectacular choice to lead the organization."
A North Carolina native from Swannanoa in the Great Smoky Mountains area, Dr. Grant began his nursing career as a graduate of Asheville Buncombe Technical Community College's Licensed Practical Nursing program. He became a Registered Nurse after earning a Bachelor's of Science in Nursing from the North Carolina Central University Department of Nursing and went on to earn both his Master's Degree in Nursing Education and PhD in Nursing from The University of North Carolina at Greensboro.