Atrium Health Endorses Modernized APRN Regulations in North Carolina
For Immediate Release
November 1, 2023
In a monumental move for North Carolina, Atrium Health has become the first health system to publicly endorse Full Practice Authority for Advanced Practice Registered Nurses (APRNs).
A few weeks ago, Atrium Health Enterprise Executive Vice President and Chief Physician Executive Scott Rissmiller, MD, sent a letter to legislators saying, "Atrium Health is now endorsing a path to full practice authority for APRNs." The letter goes into detail about Atrium Health's position – and why North Carolina's largest health system can no longer stay on the sidelines.
Share This Message On Social!
Click here to share on Facebook.
Click here to share on Instagram.
Click here to share on Threads.
Click here to share on Twitter/X.
Click here to share on LinkedIn.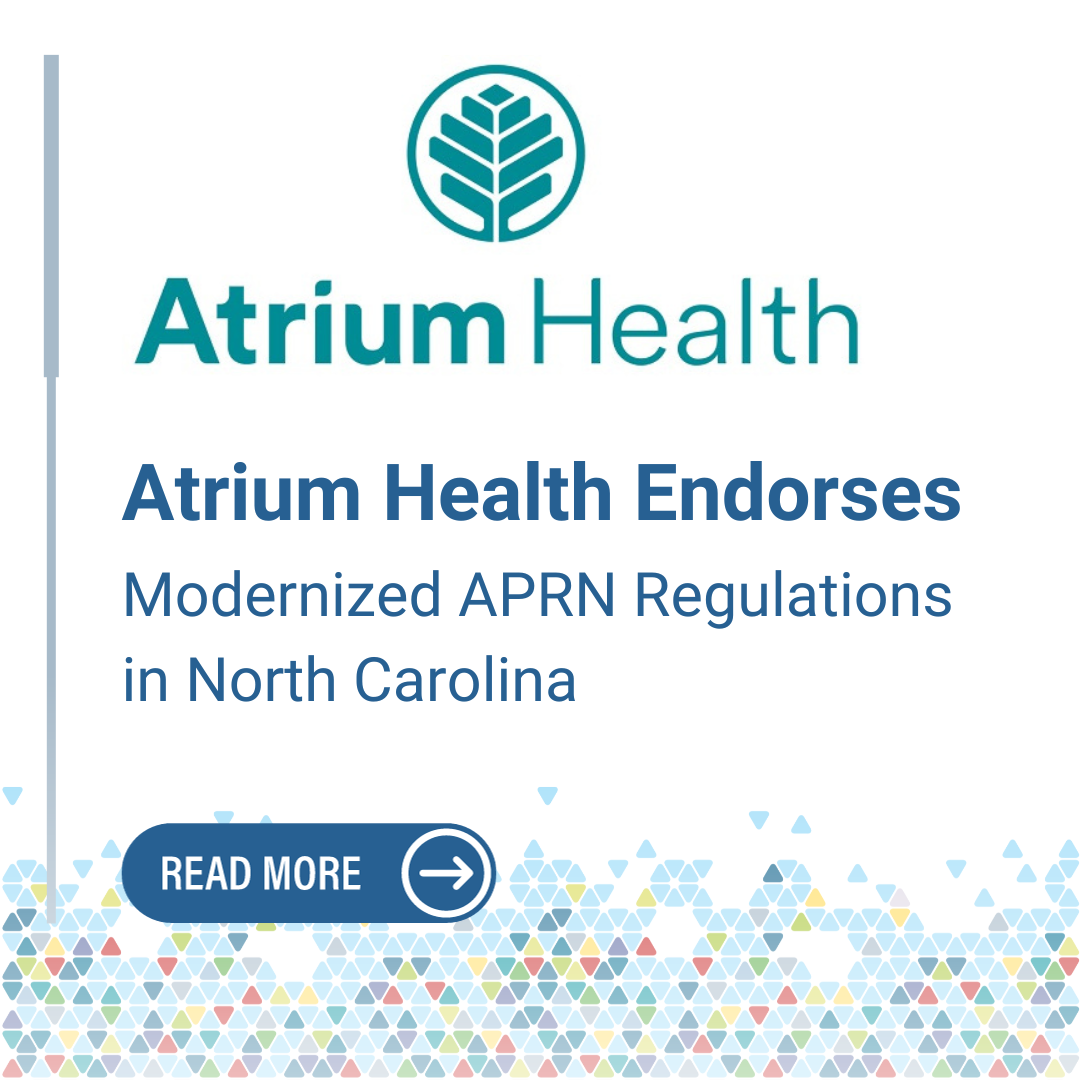 "As our patients face more significant challenges in accessing primary care, behavioral health care, and follow-up for many specialty care visits, it has become clear we need to do more to remove barriers preventing advanced practice nurses from practicing to their full potential," said Rissmiller. "The current regulations create additional burden, cost, and ultimately unnecessary paperwork for both physicians and APRNs without true impact on patient care."
Atrium Health is now the 25th organization outside the nursing profession to publicly endorse Full Practice Authority for North Carolina's APRNs. There are no known opponents outside of organized medicine.
The SAVE Act (H218/S175) is the only bill currently being considered by the North Carolina General Assembly that would grant Full Practice Authority to APRNs. That bill garnered 80 sponsors from both sides of the aisle, including 59 in the House and 21 in the Senate. At least 27 other states have passed similar legislation to the SAVE Act, which is overwhelmingly backed by more than 40 years of peer-reviewed research.
Recently updated research from Chris Conover, a healthcare economist from Duke University shows that North Carolina would save between $647 million and $6.4 billion each year by granting Full Practice Authority to APRNs, without sacrificing quality of care.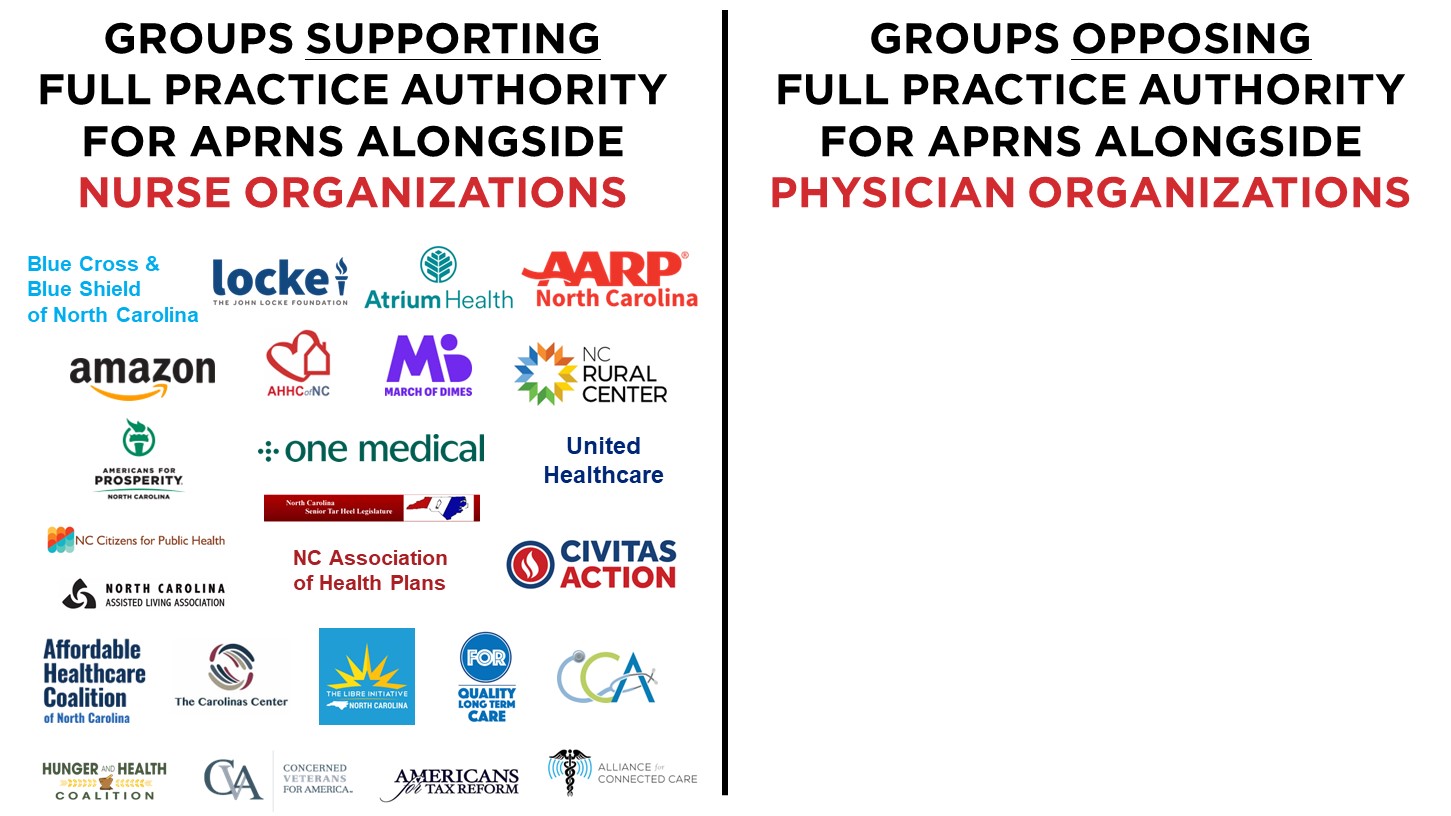 The 25 organizations endorsing Full Practice Authority for APRNs are:

· AARP North Carolina
· Blue Cross NC · The Carolinas Center · Civitas Action · Concerned Veterans for America · The Convenient Care Association · Friends of Residents in Long Term Care · The Hunger and Health Coalition · The John Locke Foundation · The LIBRE Initiative · March of Dimes North Carolina · The North Carolina Assisted Living Association · The North Carolina Association of Health Plans · North Carolina Citizens for Public Health · The North Carolina Rural Center · The North Carolina Senior Tar Heel Legislature · One Medical · United Healthcare

· The Affordable Healthcare Coalition of North Carolina · The Alliance for Connected Care · Amazon · Americans for Prosperity North Carolina · Americans for Tax Reform · The Association for Home & Hospice Care of North Carolina · Atrium Health
---
MEDIA CONTACT
Chris Cowperthwaite, APR
Director of Communications & Outreach
(919) 821-4250 or chriscowperthwaite@ncnurses.org
ABOUT NCNA
As the leading professional organization for North Carolina's registered nurses, we equip nurses at all stages to thrive in an ever-changing healthcare environment. NCNA helps keep North Carolina nurses on the cutting edge of nursing practice, policy, education, and more. Join us as we work to advance nursing and ensure high-quality healthcare for everyone.
Established in 1902, NCNA provides continuing education, networking and legislative advocacy for registered nurses throughout North Carolina. For more information, please visit www.ncnurses.org.
MISSION STATEMENT
The North Carolina Nurses Association serves the changing needs of its members, addresses nursing issues, and advocates for the health and well-being of all people.