2023 Nurses Month Message from NCNA President Meka Douthit Ingram
For Immediate Release
May 1, 2023
RALEIGH – Happy Nurses Month! It is my honor to deliver this message as the 55th President of the North Carolina Nurses Association (NCNA). I am humbled to represent North Carolina's 155,000 phenomenal Registered Nurses who serve day in and day out in every setting imaginable. We are in hospitals, of course, but we are also in schools and military bases, in research and corporations, in C suites and the halls of government.
Share This Message On Social!
Click here to share on Facebook.
Click here to share on Instagram.
Click here to share on Twitter.
Click here to share on LinkedIn.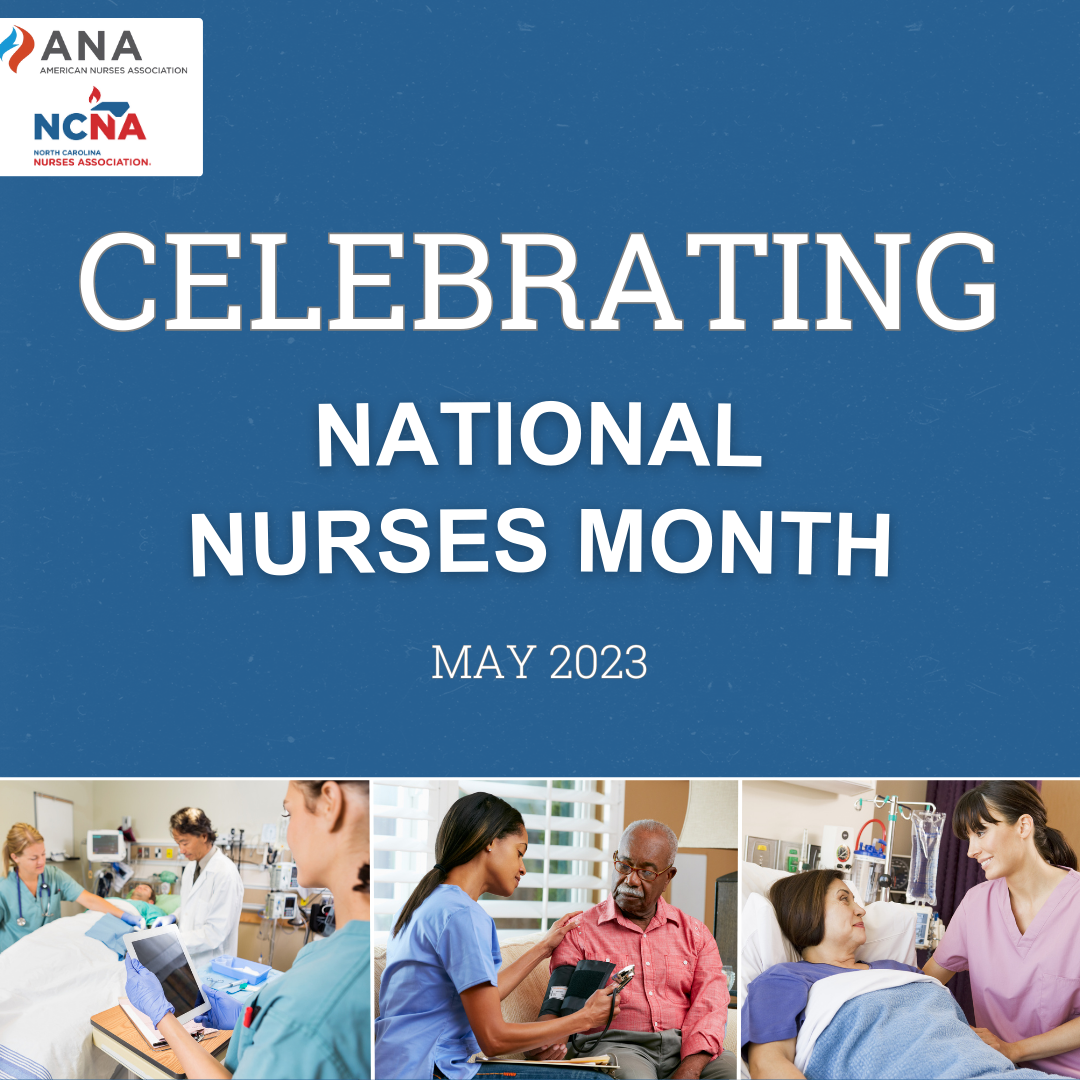 This time of year serves as a chance to pause and remind ourselves about the incredible benefits that come with choosing a career that is not always easy. We were already facing a nursing shortage before the pandemic, and the numbers continue heading in the wrong direction. Burnout rates are unsustainable as nurses, especially those at the bedside, are asked to give more and more of themselves.
NCNA will continue to work with hospital administrators, our legislators at the North Carolina General Assembly, and other stakeholders to continuously improve the infrastructure that holds our entire healthcare system in place. The opportunity to make things better is something I do not take for granted, nor do I take it lightly.
For all of the demands placed on this profession, I am amazed by the stories of caring, perseverance, innovation, and professionalism we hear on a daily basis. Nurses should be proud of the work they do and deserve to know that we, as a society, appreciate their dedication.
The theme of Nurses Month this year is "You Make A Difference," with the month broken into four weeks focusing on self-care, recognition, professional development, and community engagement. These are the building blocks for a healthier profession and perfectly summarize the ways we can build a stronger foundation for nursing going forward. For the 21st consecutive year, Nursing has been recognized by Gallup as the highest rated profession for honesty and ethics. We have a lot of work to do, but that recognition demonstrates that patients trust us to do what is in their best interest – and we will always handle that trust with care.
Nurses, please know that both NCNA and I appreciate YOU. If you are a nurse who has not yet joined NCNA, I encourage you to learn more about what we do each day to improve the profession we love. We provide nurses with the tools they need to get the most out of their profession, whether that is through professional development opportunities, quality continuing education, networking with colleagues from across the state, or advocacy for important policy changes.
If you are not a nurse, please, as soon as you are done reading this: take the effort to acknowledge your own friends and family members who are nurses. Tell them you appreciate what they are doing. It will mean more than you realize.
Fellow nurses, continue to rise above, keep your eye on what is important, and know that you are valued, admired, and respected. Thank you for helping us lead Nursing Forward®.
Meka D. Ingram, DNP, RN, NE-BC
President, North Carolina Nurses Association
MEDIA CONTACT
Chris Cowperthwaite, APR
Director of Communications and Outreach
(919) 821-4250 or ChrisCowperthwaite@ncnurses.org
ABOUT NCNA
As the leading professional organization for North Carolina's registered nurses, we equip nurses at all stages to thrive in an ever-changing healthcare environment. NCNA helps keep North Carolina nurses on the cutting edge of nursing practice, policy, education, and more. Join us as we work to advance nursing and ensure high-quality healthcare for everyone.
Established in 1902, NCNA provides continuing education, networking and legislative advocacy for registered nurses throughout North Carolina. For more information, please visit www.ncnurses.org.
MISSION STATEMENT
The North Carolina Nurses Association serves the changing needs of its members, addresses nursing issues, and advocates for the health and well-being of all people.