Genetic Markers and Personalized Treatment in Psychiatry – Sponsored by Genomind
Friday, August 13, 2021
12:00pm – 1:00pm
via Zoom
Title: "Genetic Markers and Personalized Treatment in Psychiatry"
Presented by: Dr. Russell Amato
Description: A presentation on the clinical utility of pharmacogenetics in psychiatry. This will include a discussion on currently utilized and well validated pharmacokinetic and pharmacodynamic gene mutations that predict medication response, as well as a brief demonstration of an interactive tools designed by Genomind's in identifying both drug-drug and drug-gene interactions and helping avoid these risks.
This is a complimentary event, free to attend. To receive access to the Zoom webinar, please register in advance.
This presentation is sponsored by Genomind. This presentation is not eligible for CE credit.
Presenters Bio:
Dr. Russell Amato received his PhD in Pharmacology at Louisiana State University and has over a decade of experience in developing novel therapeutics for neuropsychiatric diseases including drug abuse, depression, anxiety and ADHD. His PhD work focused on the evaluation of neuroactive steroids in preclinical models of alcohol addiction, as well as assessing these compounds for their potential utility in cognitive disorders. He completed his postdoctoral fellowship within the Vanderbilt Center for Neuroscience Drug Discovery, where he evaluated metabotropic glutamate receptor negative allosteric modulators for the treatment of cocaine addiction, in addition to evaluating these compounds for use in depressive/anxiety disorders. Before coming to Genomind, Dr. Amato also worked on the development of antisense oligonucleotides as a novel therapy for genetic polymorphisms in a preclinical model of Usher Syndrome, providing him with a strong background in both genetics and psychiatric disease.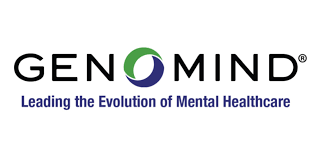 Clinicians Website: https://www.genomind.com/clinicians
Product Overview Video: (Genomind Product Overview Video)
Clinicians Brochure: Click Here