Nursing Advocacy Day
April 18, 2017 at the Raleigh Convention Center, Raleigh, NC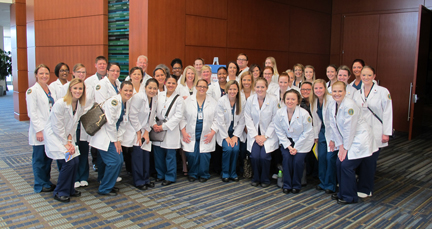 Registration is open!
Mail-in registration form
Deadline to register is
April 5, 2017
FEES:
NCNA Member $35
Member of Sponsoring Partner/Organization $35
Nursing Student at Sponsoring SON $10
Nursing Student at other SON $25
All other individuals $60
---
Our keynote address will be given by Janet Haebler, MSN, RN, Associate Director, State Government Affairs at the American Nurses Association. She is an excellent speaker and expert on a wide array of advocacy issues specific to nursing, and we could not be more excited to have her topping the agenda.
Dr. Amanda Cohen, MD, MPH, North Carolina's new Secretary of The Department of Health and Human Services, will be leading a discussion on the opioid crisis, an issue that she is making a top priority for the department.
Other high-quality discussions will include:
NC Legislative Update with NCNA lobbyists Alex Miller and Patrick Ballantine
Legislative panel featuring NCNA members elected to the North Carolina House of Representatives: Rep. Gale Adcock , D-Wake (confirmed), Rep. Carla Cunningham, D-Mecklenburg (confirmed), and Rep. Donna White, R-Johnston (invited)
NCBON and NCSBN Update with NCNA member Julie George, RN, MSN, FRE, Executive Director of the North Carolina Board of Nursing and President of the National Council of State Boards of Nursing
Nursing Professional Advocacy with Mary Graff, MSN, RN, NEA-BC, President of the North Carolina Nurses Association
We are anticipating the possibility that legislators will be on their unofficial Spring Break the same week as our event, and are planning accordingly. Whether the General Assembly is in session or not, we expect this event to be a valuable and worthwhile experience for everyone involved.
---
Thank you to our Sponsoring Schools!