The North Carolina Nurses Association is hosting the annual Nurse Practitioner Spring Symposium on March 26-29, 2017, in Asheville, NC. The NCNA Council of Nurse Practitioners invites you to join us for an exciting opportunity for nurses to network, engage in valuable professional development, participate in high-level policy discussions, and meet with quality vendors. We hope to see you in Asheville!
Keynote: April Kapu, DNP, RN
Our keynote address will be delivered by April N. Kapu, DNP, RN, ACNP-BC, FAANP, FCCM, the Associate Nursing Officer for Advanced Practice at Vanderbilt University Medical Center. Dr. Kapu will be speaking on the subject of Nurse Practitioner impact on patient outcomes. Dr. Kapu is a nationally-respected speaker with expertise on APRNs and their roles in Rapid Response Teams. She has been published in a variety of textbooks and journals. Dr. Kapu is a Fellow of both the Society of Critical Care Medicine and the American Association of Nurse Practitioners.
LATEST NEWS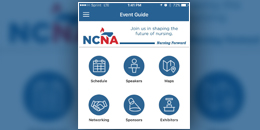 Download the Event App
The app is designed to put some powerful tools at your fingertips: personalized scheduling, session materials, networking opportunities, interactive maps, CE downloads, and much more! Details
Movie Night at NPSS
On Monday, 7:30 pm, NPSS will feature The Invisible Patients: Life at the Edges of the Healthcare System. This movie pulls back the curtain on a hidden, vulnerable population, whose circumstances ask us to wrestle with not just healthcare policy, but as importantly, how to mend today's fraying social fabric. Don't miss it!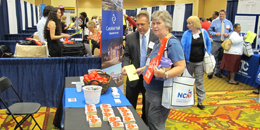 Welcome Sponsors and Exhibitors
Join hundreds of Nurse Practitioners in Asheville, NC, for the 2017 Nurse Practitioner Spring Symposium (NPSS). NPs are eager to learn about effective products and services! Details
Content Capture
Attendees will receive a link to presentations with audio about two weeks after NPSS for each day of paid registration. Details
Make an Impact!
NP volunteers needed at the General Assembly. Details
TWITTER