NP Series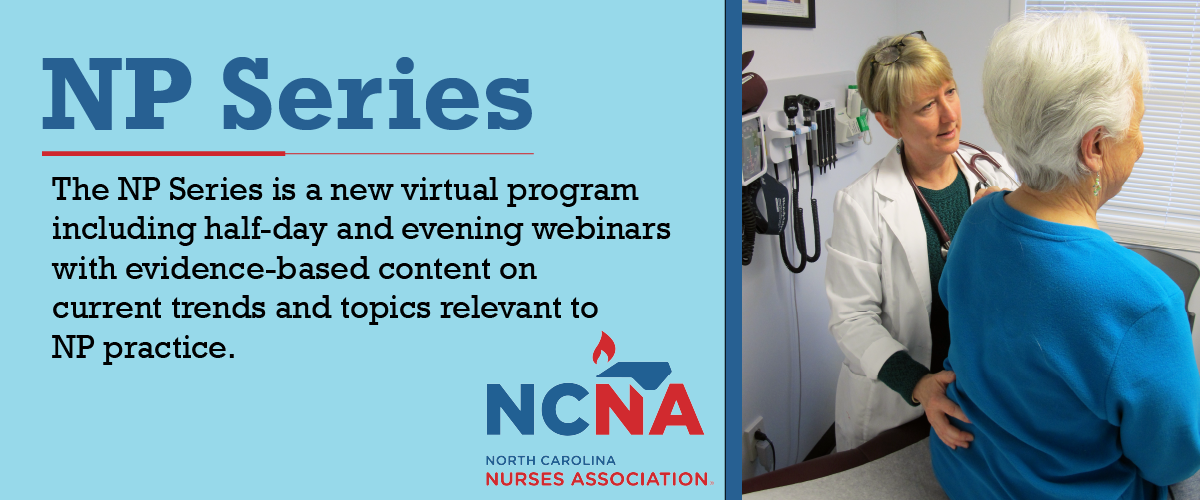 Upcoming Webinars
Click the individual webinar title for specific program agenda and registration.
NP Series: Cardiovascular Updates
March 24, 2021
(3.0 CH; 1.75 Pharm)
Beyond Statins - Risk Reduction in ASCVD
Presented by Carrie Palmer, DNP, ANP-BC, CDE
Associate Professor and DNP Lead Faculty
University of North Carolina School of Nursing
(1.5 CH; 1.5 Pharm)
Overview of Atrial Fibrillation: Best Practices and Beyond
Presented by Jennifer Walker, RN, MSN, ANP-BC
Nurse Practitioner, University of North Carolina Department of Electrophysiology
Clinical Faculty, University of North Carolina School of Nursing
(1.5 CH; 0.25 Pharm)
---
NP Evening Series: Esophageal Updates: It's Not Just Your Grandmother's Heartburn!
April 20, 2021
(1.5 CH; 1.5 Pharm)
Overview: Review of common benign and malignant conditions of the esophagus including:
Achalasia
Barrett's esophagus
Chronic GERD
Esophageal carcinoma
Para esophageal hernia pathology
Overview of novel diagnostic, pharmaceutical and surgical treatment options including Per Oral Endoscopic Myotomy (POEM) and esophageal sphincter augmentation/LINX.
Summarize current recommendations for prevention and treatment of common esophageal disorders as they relate to long term outcomes-including survival and quality of life.
Objectives:
Understand pathophysiology of common esophageal conditions.
Become familiar with the diagnostics utilized for disease identification as well as the indications for referral to GI and thoracic surgery specialty care.
Understand the connection between chronic reflux and PPI use with increased incidence of esophageal cancer.
---
NP Series: Oncology Topics
June 25, 2021
(3.0 CH; 2.0 Pharm)
Medical Treatments for Prostate Cancer: What the Primary Care NP Needs to Know
presented by
Jason W. Crockett, MSN, FNP-C
Nurse Practitioner- GU Medical Oncology
Duke Cancer Center Genitourinary (GU)
Diagnosis and Treatment of the Adult Leukemia Patient: Considerations in Primary Care presented by
Elizabeth B. Campbell, MSN, AGNP-C, AGACNP-BC, BMTCN
Inpatient Clinical Lead APP
Department of Hematologic Oncology and Blood Disorders
Levine Cancer Institute Atrium Health
NCNA will be adding more sessions to the NP Series over the coming months. Please check back soon for more sessions.