Vendors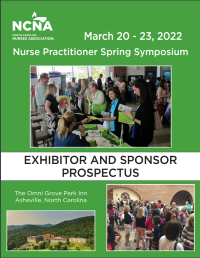 Join hundreds of Nurse Practitioners in Asheville, NC, for the 2022 Nurse Practitioner Spring Symposium (NPSS). Nurse Practitioners often hold leadership positions, meaning they are eager to learn about new and effective products, services and opportunities. Some are business owners themselves. NPSS is an ideal environment to meet new potential clients and bolster existing relationships.
Go here for the Exhibitor and Sponsor Prospectus.
If you have questions, please contact NCNA at RNs@ncnurses.org.
"We have hired multiple practitioners from our contacts during this event over the past years. I find the time allotted is adequate and allows for ample one-on-one conversations with those interested in our practice."
— Brandi Thomas, FNP-C, Physicians Eldercare

VENDOR HALL SCHEDULE
Monday, 3/21/22
Exhibit Hours: 10:30-11:30am; 3:30-4:15pm 5:15-6:00pm
Tuesday, 3/22/22
Exhibit Hours: 8:00-9:00am; 11:30-12:30pm; 1:30-2:00pm