Vendors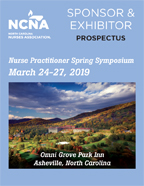 Join hundreds of Nurse Practitioners in Asheville, NC, for the 2019 Nurse Practitioner Spring Symposium (NPSS). Nurse Practitioners often hold leadership positions, meaning they are eager to learn about new and effective products, services and opportunities. Some are business owners themselves. NPSS is an ideal environment to meet new potential clients and bolster existing relationships.
The 2019 NPSS exhibit hall is full.
If you are interested in joining us in 2020, please contact Kristin Goins at kristingoins@ncnurses.org.
"We have hired multiple practitioners from our contacts during this event over the past years. I find the time allotted is adequate and allows for ample one-on-one conversations with those interested in our practice."
— Brandi Thomas, FNP-C, Physicians Eldercare

VENDOR HALL SCHEDULE
Monday, 3/25/19 (Exhibit Hours: 10:10-10:45am - 3:15-3:50pm)
Tuesday, 3/26/19 (Exhibit Hours: 8:00-9:15am - 10:15-11:15am)
---
Current Sponsors and Exhibitors - Thank you!
AbbVie - Hepatology Division
AbbVie - Metabolic Division
ACADIA-Pharm – SPONSOR
Amazing Stim
American Association of Nurse Practitioners
Atrium Health – SPONSOR
Aveanna Healthcare
Boehringer Ingelheim Pharmaceuticals Inc.
Bryan Piccirillo - Edward Jones Investments
CHIESI USA, INC.
Consultative Genomix
CORA Physical Therapy
Dynamic Mobile Imaging
East Carolina University College of Nursing
Gardner Webb University
Gilead Sciences
Grifols
HealthStat
Janssen Cardiovascular Metabolism
Janssen Neuroscience
L'ATHENE Pure Skin Care
Marley Drug, Inc.
MinuteClinic
Monarch
Mylan Inc. - Respiratory Health Division
Mylan Inc. - Women's Health Division
NC Area Health Education Centers (AHEC)
NC Elder Care
North Carolina Biotechnology Center
Novo Nordisk Inc. – Diabetes Division
Novo Nordisk Inc. – Obesity Division
Old Vineyard Behavioral Health Services, Inc.
Pediatric Hair Solutions
Tens Technologies-Zero Gravity
The Gideons International
Tris Pharma, Inc
UNC Chapel Hill School of Nursing – SPONSOR
UNC Charlotte School of Nursing
UNC Greensboro School of Nursing
UNC Health Care
UNC Wilmington School of Nursing
Valeritas
Veritas Collaborative
VieMed
Western Carolina University School of Nursing – SPONSOR