NCNA News
Candidates Make Their Pitches to Nurses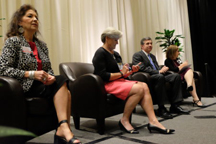 October 27, 2016
Usually, the annual North Carolina Nurses Association conference is full of workshops on wound care, patient safety and staff leadership, but this year's meeting in Winston-Salem took the discussions on leadership a step further – featuring high-level candidates from this year's political battles.
"NCNA is interested in taking advantage of every possible opportunity to engage nurses in the legislative and political process," said Tina Gordon, head of the association, which also has a political action committee.
The NCNA has been more visible at the General Assembly in recent years as nursing leaders have pushed for expanded practice for nurses and nurse-midwives and other health care issues.
"We hope to hear candidates who have a solid understanding and appreciation for the health care needs in the state," Gordon said. "At the end of the day, it's not about nurses, it's about what's good for patient care and making sure every North Carolinian has access to quality affordable care."
In addition to inviting Gov. Pat McCrory and his challenger Roy Cooper, U.S. Sen. Richard Burr and his challenger Deborah Ross, and several candidates for the General Assembly, the nursing association presented awards to Sen. Louis Pate (R-Mt. Olive) and Rep. Donny Lambeth (R-Winston-Salem), both members of health care committees.
Both men received standing ovations from the capacity crowd of 400 when they were lauded for their support of a bill to expand the scope of practice for advanced practice nurses.
Read the full article at North Carolina Health News.